Home>Media>Colorful Life
Colorful Life
NOROO Paint, the company reveals the story of the mural at the "*Hongcheol-chaekbang" Circus at Paint It Suda
2022.5.11
- Color advice and technical support with street art director, Han Hae-dong(color artist)
- Leading new trends with differentiated color & 'waterproofing' materials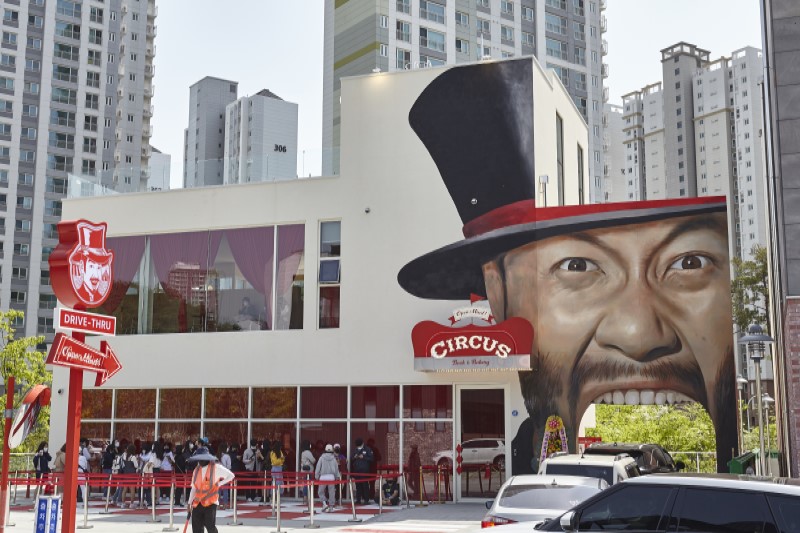 NOROO Paint, the company has released the story behind the mural of 'Hongcheol-chaek bang Circus Store' on its official YouTube communication channel "Paint It Suda"(meaning "Here's the paint").
In the video, you can check the exterior of the 'Hongcheol chaek bang' Circus, which was filmed with a drone, and an interview with the mural artist.
'The Hongcheol Chaekbang (book store) Circus', which was opened by entertainer, Mr. Noh Hong-cheol in Gimhae, Gyeongsangnam-do, heralded the birth of a new landmark in Gimhae as the store was crowded with the opening.
'Hongcheol chaekbang' Circus Store is the second store following the main store in Huam-dong, Seoul in year 2020.
The mural parody of Leonardo da Vinci's 'The Last Supper', located in the basement parking lot of the Hongcheol chaekbang main store, was created by the color artist Hae-dong Han, also a street art director at the time, using Noroo Paint products.
NOROO Paint provided color advice and technical support for the mural project at the Hongcheol Chaekbang Circus.
Noroo Paint considered the movement and perspective of visiting customers the most, including the drive-through corner of the Hongcheol Chaekbang circus store, as well as the entrance to the store, and suggested various colors and technologies that can realize the main color of the circus store, red. In addition, the color artist Han Hae-dong designed and produced his character mural using premium 'Pantone paint' with excellent color sense.
In particular, on the roof of 'Hongcheol Chaekbang' Circus Store, the roof waterproofing material is composed of five colors and colored in a geometric pattern to reproduce the atmosphere of the circus hall as it is.
The technological advantages of NOROO Paint, which has transformed the rooftop, which was previously perceived as a single dark color such as green and gray, stands out.
Director Han Kyung-won, who is in charge of NSDS (NOROO Seoul Design Studio), said, "as Hongcheol Chaekbang Circus store had a strong need for color above all, Noroo Paint's color realization technology was able to see the light more visible" and she also commented, "we hope the store becomes a new landmark in Gimhae."
List