Home>Media>Colorful Life
Colorful Life
Teresa Freitas Photo Exhibition and Art Collaboration, full of spring emotions
2022.2.18
Combination that makes you feel spring, such as eco-friendly paint 'SOON & SOO'
and "premium pantone paint".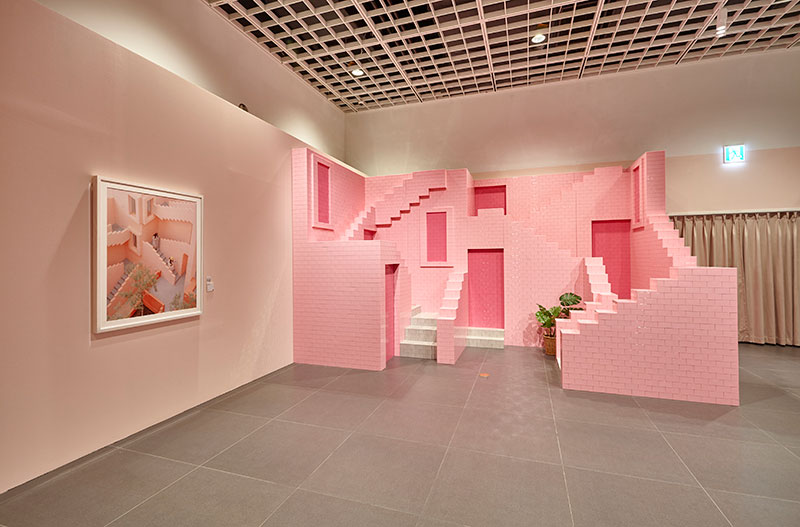 NOROO Paint is sponsoring the world's first 'Teresa Freitas' photo exhibition.
Align with the theme of this photo exhibition, 'one spring day', NOROO Paint created a space by actively using pastel tones where you can feel the spring sensibility.
The exhibition space is decorated with a variety of pink color combinations that can fully feel the sensibility of spring, such as April breeze and baby powder, and the "SOON & SOO" antiviral paint and 'V-Guard' is used in the common area.
In particular, premium 'Pantone paint', which features high saturation, is used as a point color to add warmth and a bright spring feeling.
Teresa Freitas is a native of Lisbon, Portugal. Through her artistic and creative approach, she presents landscapes and still lifes covered in dream-like pastel tones in a variety of ways, including photography, video, and stop motion, and is receiving worldwide attention and love.
In addition, this photo exhibition became a more meaningful collaboration for both the artist and Noroo Paint as it is the first photo exhibition in the life of Teresa Freitas, who has worked with world-class brands such as Netflix, Dior, Chloe, and Pantone.
The exhibition space, which consists of about 80 representative works in six sections, including flower picnics and spring dreams, has provided a variety of life cut photo zones decorated in pastel tones in addition to the artist's works, further enhancing the enjoyment of visitors.
Director Han Kyung-won, who is in charge of NSDS (Noroo Seoul Design Studio) said,
'I am honored to be able to participate in NOROO Paint's first photo exhibition held by world-famous artist Teresa Freitas in the world.' We will continue to promote the excellence of color."
The company also has recently launched an art collaboration to create a space using paint at various exhibition-related events, such as the Lotte World Fairy Tale Hall, Halloween Photo Zone, and Eric Johansson Photo Exhibition, showing differentiated marketing related to art.
List