Home>Media>Colorful Life
Colorful Life
Holding the Hopeful, Sharing Music Concert
25.7.2011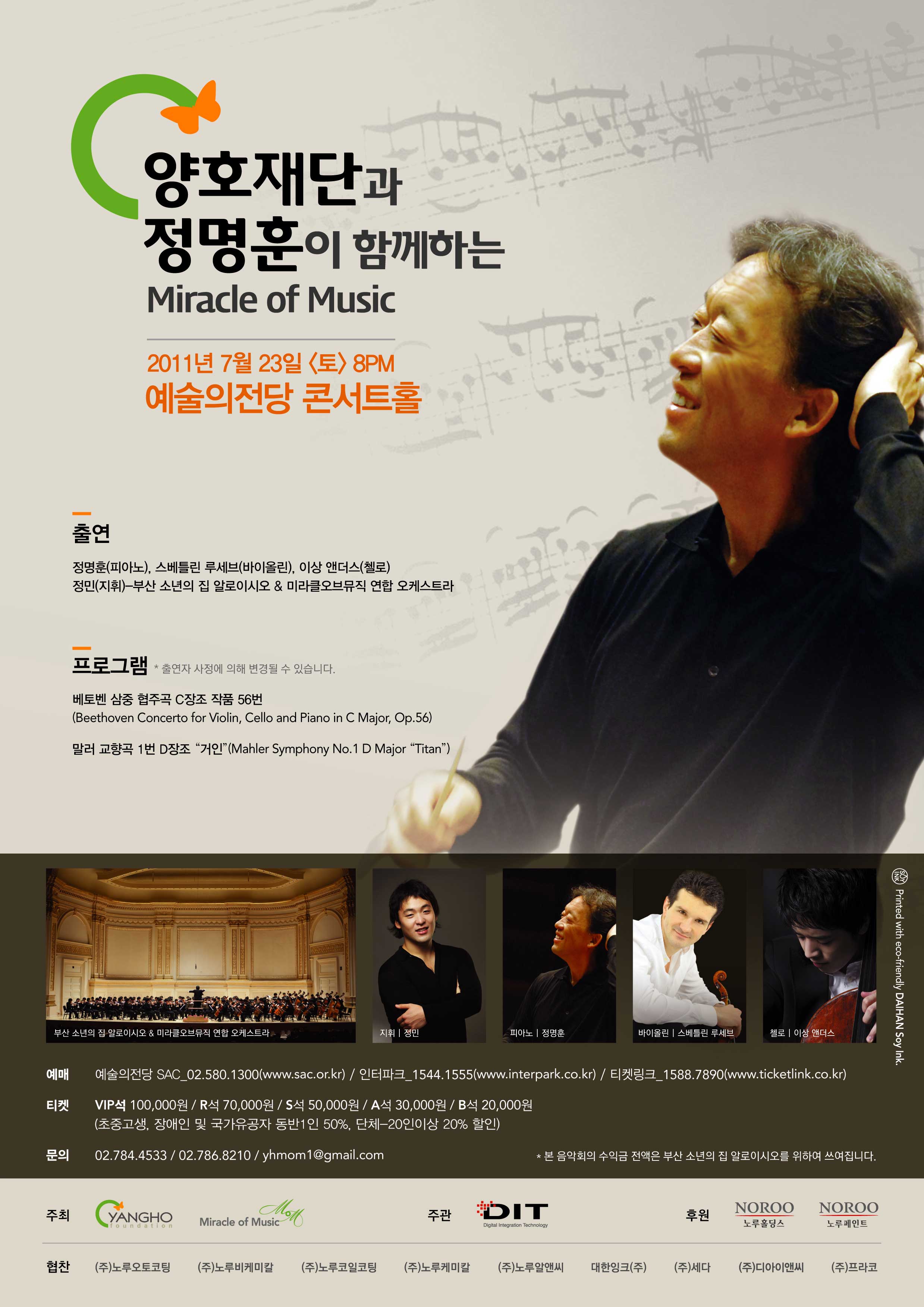 In a bid to preserve the challenging spirit and love for his neighbors of Han Jeong-dae, the late founder and chairman of NOROO Paint & Coatings Co., Ltd., his first daughter Han Hyun-sook established a non-profit scholarship foundation named YANGHO foundation. Together with Miracle of Music Co. and the Busan Youth House 'Boy's Town ALOYSIUS Orchestra', YANGHO foundation will hold the Hopeful, Sharing Music Concert at the Seoul Arts Center on July 23, 2011.
Miracle of Music, a joint organizing agency, is a non-profit foundation set up by Maestro Myung-Whun Chung with the aim of creating a more harmonious world through music. The Busan Youth House is an orphanage facility that helps to nurture orphaned children as sound citizens by helping them to cultivate various talents and skills. Notably, this facility is famous for both its soccer team and orchestra. In February 2010, the orchestra held a concert at Carnegie Hall in New York, which was well received by the audience.
This year's upcoming concert will be led by rising young conductor Chung Min, the son of Maestro Chung. The orchestra will perform Gustav Mahler's First Symphony and Beethoven Triple Concerto for Violin, Cello and Piano, in which Maestro Chung will participate as a pianist. In addition, the concert master of the Seoul Philharmonic Orchestra, Svetlin Roussev, will play the violin, and the lead musician of the Staatskapelle Dresden, Isang Enders, will play the cello.
This concert, which is being held to realize the dreams and hopes of the Boy's Town Symphony Orchestra, is sponsored by NOROO Holdings and NOROO Paint & Coatings jointly with the affiliates of NOROO.
List